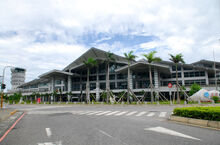 Introduction
Hualien Airport (花蓮機場) (IATA: HUN, ICAO: RCYU) is a commercial airport located in an 11.5-hectare (28-acre) civilian area of a military airbase in Xincheng, Hualien County, Taiwan. With flights to Taipei, Kaohsiung and Taichung, it served 235,386 passengers in 2017, making it the tenth-busiest airport in Taiwan.
History
Hualien Airport was opened on 16 May 1962 for both military and domestic civilian use. Before this, Hualien was a military gravel airfield.
On 27 April 2001, Hualien Airport became certified to serve international flights.
Between 2002 and 2005, the airport underwent an expansion building new [assenger and cargo terminals, as well as getting new air bridges and a new apron. The new passenger terminal was opened on 19 March 2004, at a cost of NT$2.3 billion (US$69 million).
The proximity of Hualien Airport to a military base has caused some tension between travellers, airline officials, and the Republic of China Air Force, especially when civilian flights are cancelled due to war games exercises.
Accidents and Incidents
China Airlines flight 204 - A Boeing 737-200 crashed into a mountain shortly after takeoff
On 24 August 1999, a Uni Air MD-90 flight from Taipei exploded just after landing