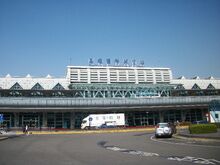 Introduction
Kaohsiung International Airport (高雄國際機場) (IATA: KHH, ICAO: RCKH) is a medium-sized civil airport in Siaogang District, Kaohsiung, Taiwan, also known as Siaogang Airport (小港機場). With nearly seven million passengers in 2018, it is the second busiest airport in Taiwan, after Taoyuan. The airport has a single East-West runway and two terminals: one international and one domestic.
History
Kaohsiung Airport was originally built as an Imperial Army Air Squadron base in 1942 during the Japanese rule of Taiwan and retained its military purpose when the Republic of China government first took control of Taiwan in 1945.
Due to the need of civil transportation in southern Taiwan, it was converted into a domestic civil airport in 1965, and further upgraded to the status of an international airport in 1969, with regular international flights starting in 1972.
In 1997, a new terminal dedicated to international flights was opened, following the increase of international flights out of Kaohsiung International Airport.
After the Taiwan High Speed Rail, the high speed rail line that runs between Taipei and Kaohsiung along Taiwan's western plains, began operation in January 2007, Kaohsiung Airport suffered a huge reduction in passenger and flight movements due to the convenience of the Taiwan High-Speed Rail and record-high costs of jet fuel. Since 2009, the number of passengers has been recovering due to the opening of regular scheduled cross-strait flights to mainland China, as well as the rise of low-cost carriers.
Accidents and Incidents
On 15 February 1969, a Far Eastern Air Transport Douglas C-47B B-241 was damaged in an accident in Kaohsiung International.
On 27 June 1989, a Formosa Airlines Cessna 404 Titan crashed into the nearby streets shortly after takeoff.