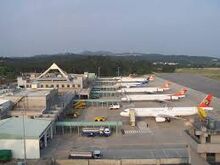 Introduction
Kinmen Shangyi Airport (金門尚義機場) (IATA: KNH, ICAO: RCBS) is a civilian airport serving Kinmen. It is located at Jinhu Township of Kinmen County. It was authorized to become a C-class airport under the direct supervision of the Civil Aeronautics Administration, Ministry of Transportation and Communications of the Executive Yuan. It serves an average of 1.2 million passengers every year.
History
Kinmen Airport was originally established in 1949 in Sihung Village as a civilian airport, commencing operations in 1951.
In 1958, the airport was moved to Shangyi where it is now located, taken over by the Republic of China Air Force (ROCAF) due to the Second Taiwan Strait Crisis with the People's Liberation Army (PLA) and the cancellation of flights to Kinmen Airport.
With the growing number of passengers travelling between Mainland Taiwan and Kinmen, the government decided to re-establish flights between the two and it began operation in September 1987 by Far Eastern Air Transport sharing the same apron and terminal building with ROCAF at the airport. Since then, many other airlines have joined the flight route.
On 1 March 1994, the NT$1.5 Billion Kinmen Civil Airport was formally established at the northeastern side of the military airport.
On 3 March 2000, the Civil Aeronautics Administration (CAA) implemented improvements of facilities, flight security and quality of service at the airport.
Accidents and Incidents
None