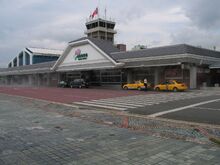 Introduction
Taitung Airport (臺東機場) (IATA: TTT, ICAO: RCFN) is an airport serving Taitung City, Taitung County, Taiwan. The airport operates from 7am to 6pm.
History
The airport began as a holding room facility in 1977 and upgraded as an official airport on 1 July 1981. It then moved to its current location months later to meet the strategical requirements of the military.
On 1 June 2001, it was promoted to become a second class airport, and in September it began its expansion construction to move industries eastwards and boost the local tourism industries.
Since 2014, the school APEX flight academy is located at the airport.
Accidents and Incidents
On 15 June 1995, a Formosa Airlines Dornier 228-201 performed a belly-landing at Taitung.
On 21 December 2014, a Daily Air Dornier 228-212 performed a belly landing as the pilots forgot to put out the landing gear.