Introduction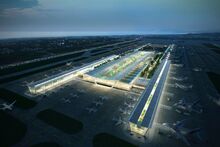 Taiwan Taoyuan International Airport (IATA: TPE, ICAO: RCTP) is an international airport serving Taipei and northern Taiwan. Located about 40 km (25 mi) west of Taipei in Dayuan District, Taoyuan, the airport is Taiwan's largest and busiest airport.
History
In the 1970s, the original airport in Taipei City, Taipei Songshan Airport, had become overcrowded and could not be expanded due to space limitations. Thus, a new airport was planned to alleviate congestion.
On 26 February 1979, the new airport opened, as part of the Ten Major Construction Projects pursued by the government in the 1970s.
Terminal 2 was opened on 29 July 2000 with half of its gates operational. The remaining gates opened on 21 January 2005 for China Airlines.
In October 2015, a new 640,000 square metre Terminal 3 was announced. It is expected to be completed in 2020 and accommodate 45 million passengers per year.
Accidents and Incidents
Air China flight 973 - Hijacked flight landed in Taiwan Taoyuan International Airport
China Airlines flight 676 - Crashed into residential area while landing due to poor weather
Singapore Airlines flight 006 - Crashed into construction equipment on the runway during takeoff